With three quarters of HR leaders stating that recruitment is very important to hitting the leadership team's growth objectives, we look at how difficult recruiting is in the current market. We surveyed over 200 HR leaders to ask what initiatives and technology are effective at overcoming the challenges that leaders are seeing. Getting the right people into a business and having an inclusive and engaged workforce is crucial to growth, so it should be front of mind for CEOs and investors as they look to the next generation of hires.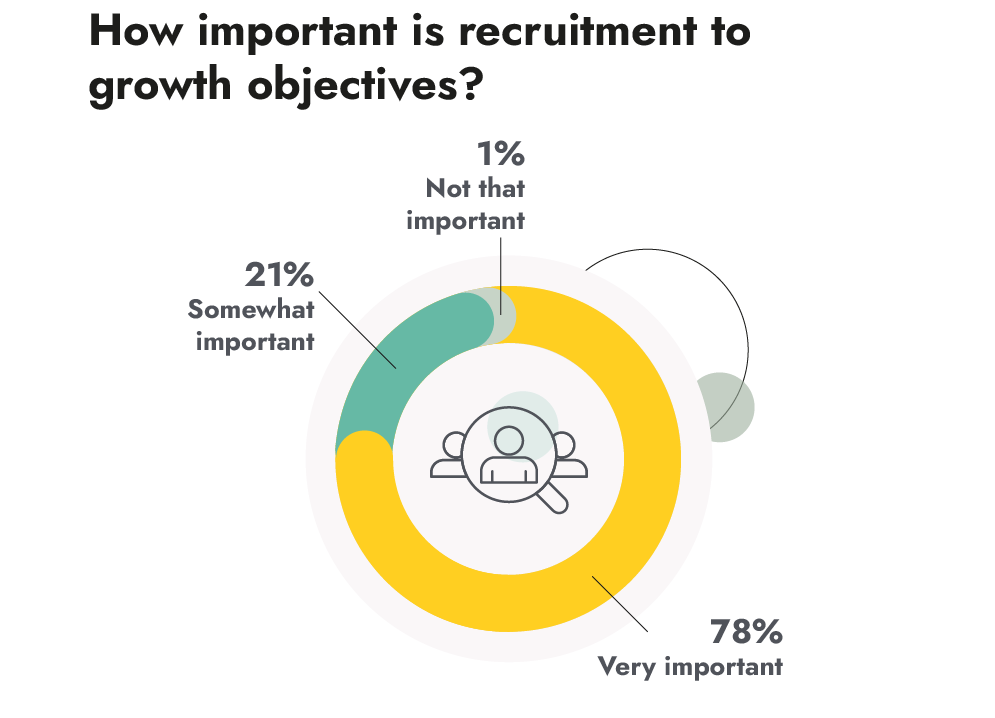 Tackling the skills shortage
There is a growing concern around the UK skills gap, and current labour shortages prompted by a range of factors including Brexit and Covid-19, appear to have further widened that gap. Lack of technical skills and knowledge is the single biggest challenge currently facing HR leaders, with 18.3% of managers stating this as their greatest concern, followed by a lack of industry experience (17.8%) and salary expectations (17.8%). Businesses with more than 500 employees are most impacted by salary expectations, while smaller companies are most likely to see lack of flexible working impacting their hiring ability (20% compared to larger companies at 7%).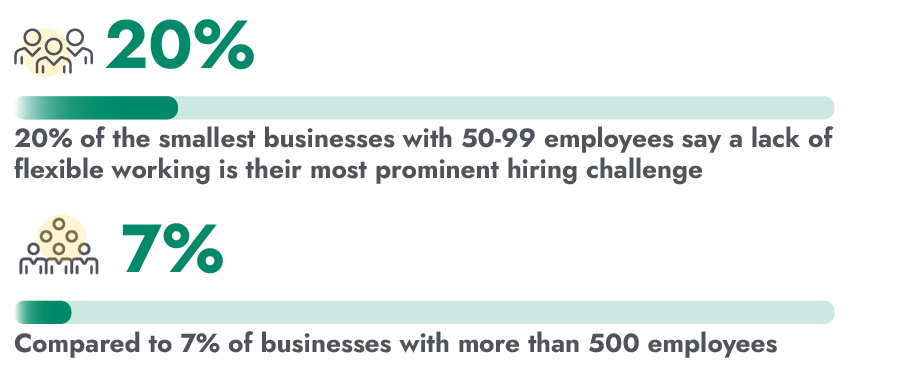 Overcoming hiring challenges
So where are HR leaders seeing success in overcoming these challenges? Changes to the recruitment process was highlighted as the most successful initiative, possibly streamlining to be more appealing in what is now a candidate's market. Unsurprisingly changing salary bands has also driven success, as has investing in new technologies as firms increasingly use tech tools to reach more candidates and run pacy hiring processes.
Smaller companies are more likely to see success from increasing salary bands, while larger firms are more likely to have success with improved employee benefits and improving flexibility. Given the current inflationary market, we'd expect salary to become an increasing focus over the next 12 months.
Given the current skills shortage it is likely businesses will have to look outside their traditional talent pool. This might mean hiring in new geographies or changing experience requirements. However, hiring in new talent pools is where HR leaders are currently seeing the least success overcoming recruitment challenges. It is encouraging to note that 81% of managers said their business had enough internal support to hire and train people looking to make a career change. We would anticipate a growth in hires of talented individuals who are looking to reskill in a new career.

The next generation
More than half of managers are looking to hire graduates over the next year, 51% are looking to hire apprentices and 41% are looking to hire candidates with between 1-5 years' experience. This highlights the high demand for Gen-Z hires, meaning businesses will need to make sure this is reflected in their employee value proposition and hiring processes going forwards.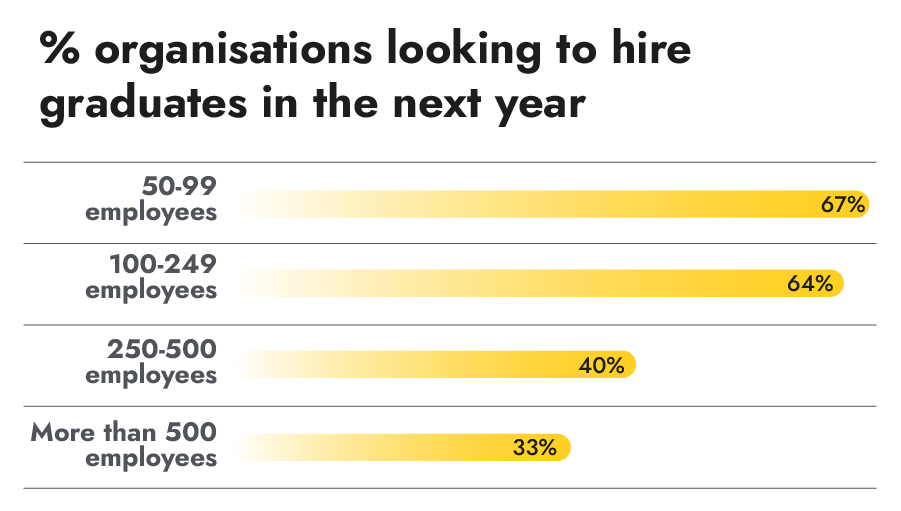 So how will this next generation of talent be hired? Interestingly, despite more than half of managers saying that they are looking to hire graduates and apprentices in the next year, only 16% said they had used a dedicated early careers program. A quarter said that creating a 6–12-month graduate scheme programme would be helpful. There are a significant number of providers trying to help with this challenge, whether delivering training programmes or deploying consultants on multi-year programmes with the option to convert to FTEs in the future. These schemes can be a great way of attracting talent and means that hires are fully embedded and upskilled by the time they have a full-time role.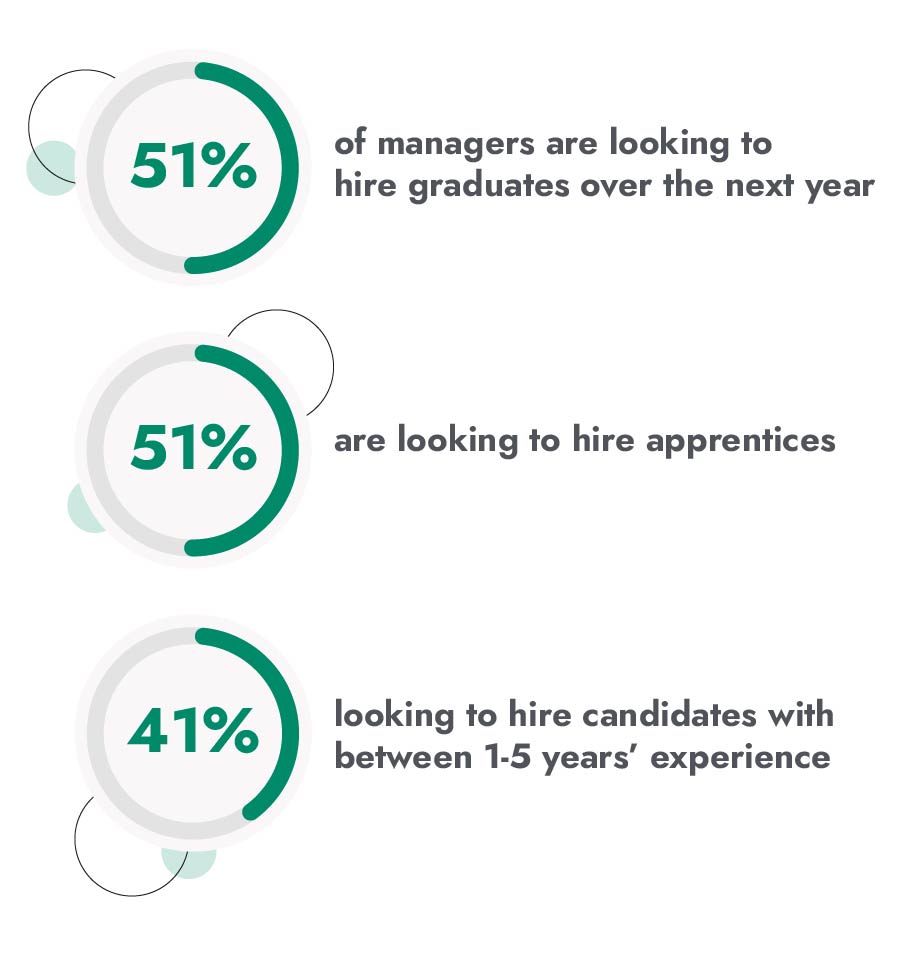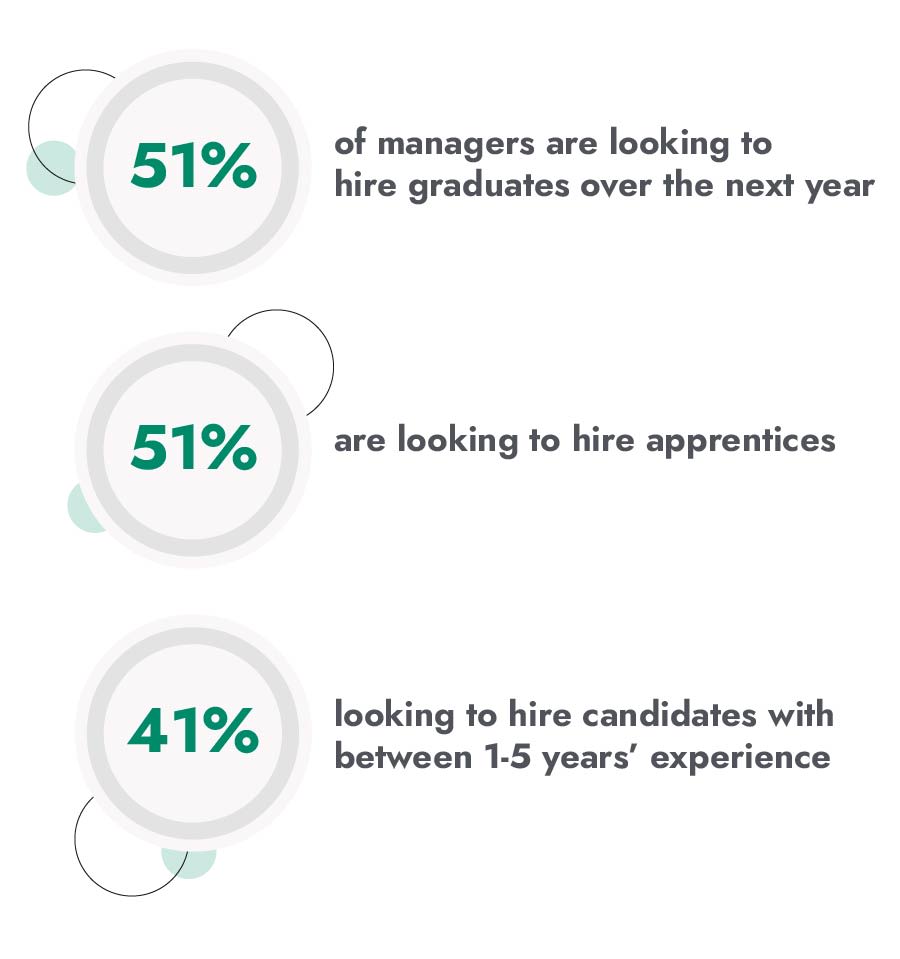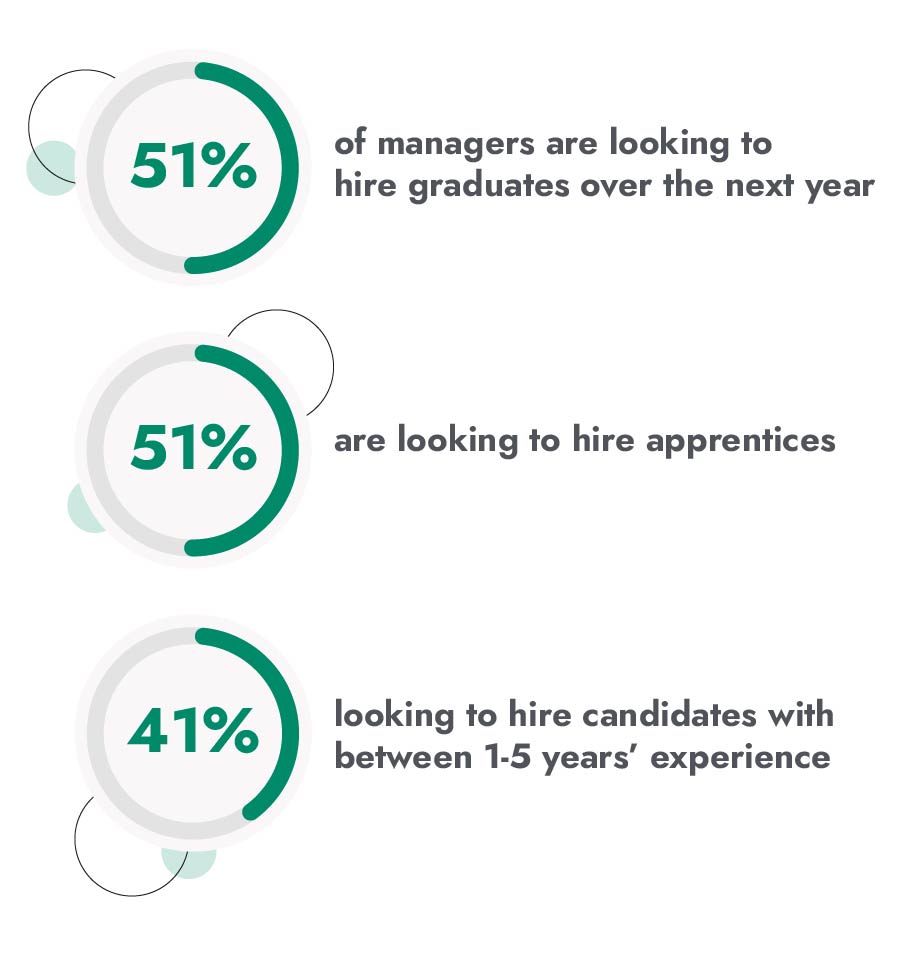 Social media and tech
Nearly half of HR leaders say they use social media platforms as part of their recruitment and onboarding processes. While it may not be remarkable that virtual reality and AI is yet to take off in HR, it is a bit surprising that over half of HR managers are not using the power of onboarding platforms or applicant tracking software to help with recruitment and onboarding. Given that investing in new technologies was in the top three drivers of success, it feels like there is a significant opportunity for those trying to hire to invest in tech solutions.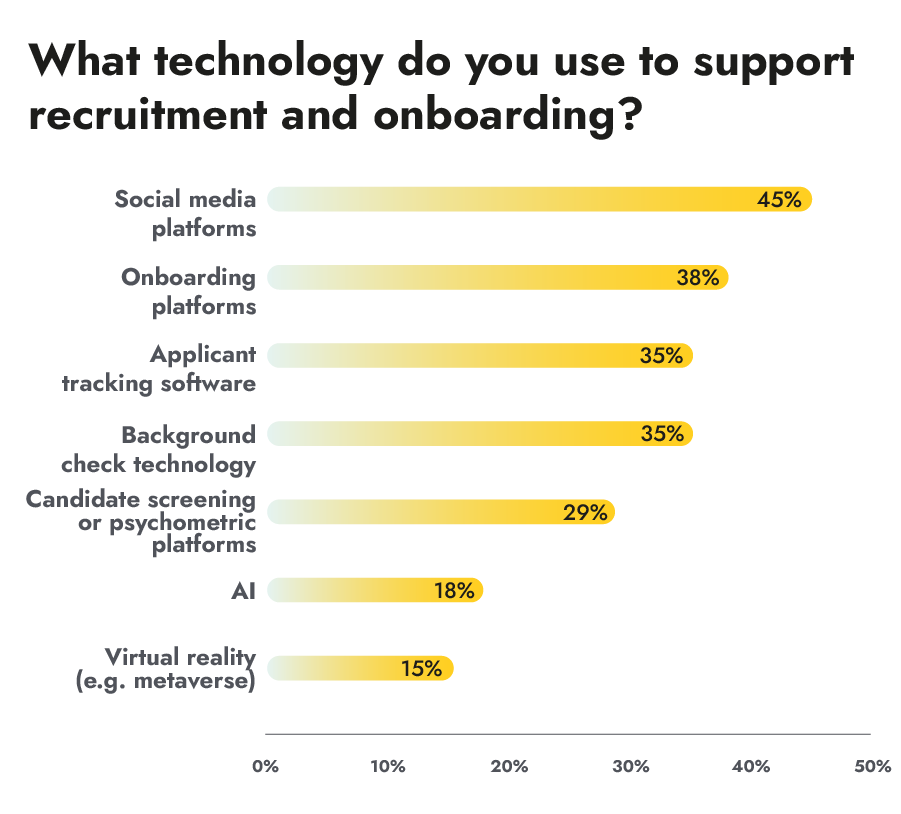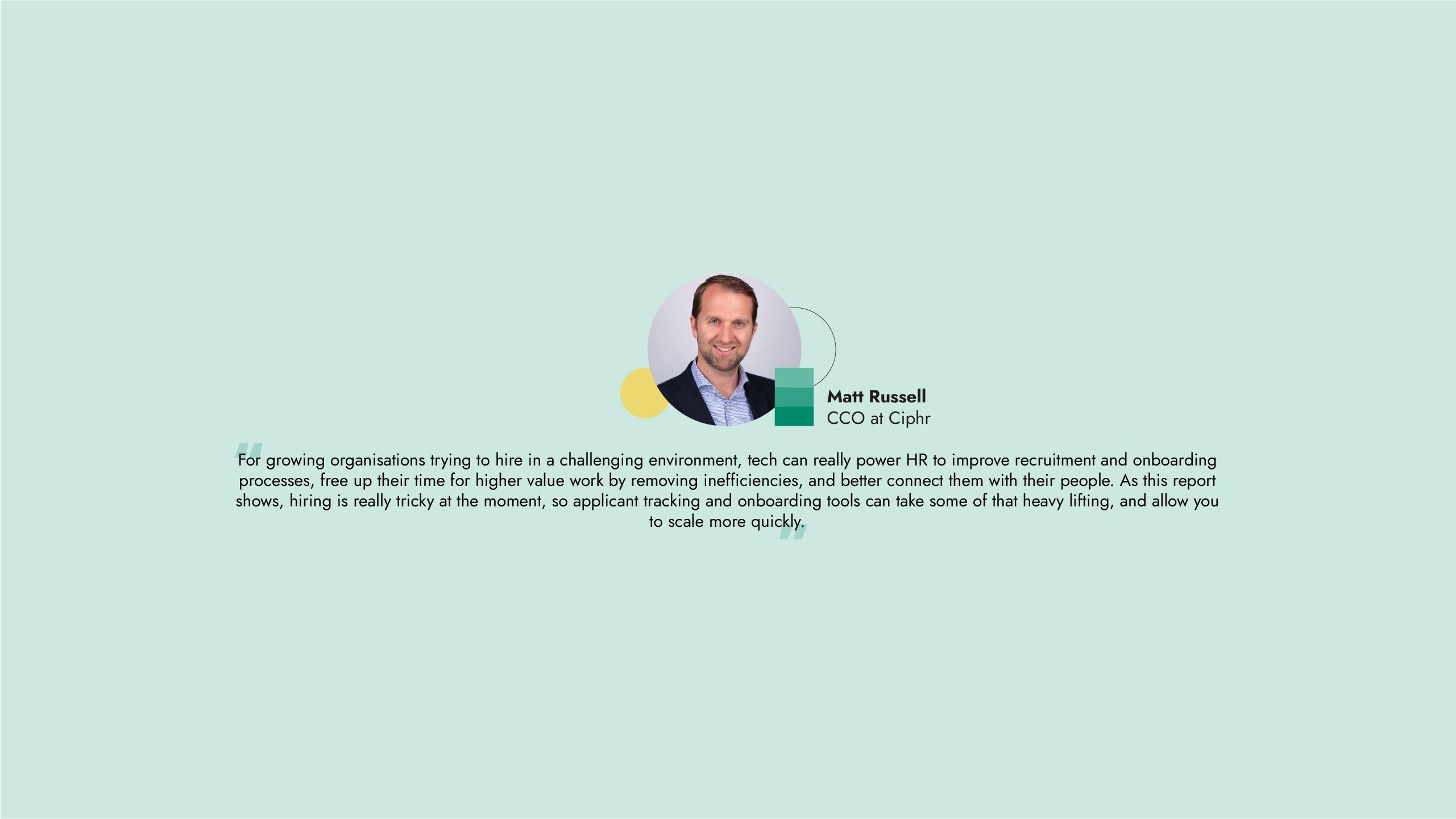 Diversity and inclusion
Given the importance of the topic, it is reassuring to see that 96% of HR leaders have already defined their D&I goals. On average, firms believe it will take 4.28 years to achieve those goals, with no one thinking it would take longer than 10 years.

More surprisingly 10% of businesses believe they have already achieved their D&I goals, which may mean they are being overly simplistic in how they are tackling the problem. At ECI our own D&I strategy is an evolving document as we listen to a changing world and deliver constant, iterative progress.
HR leaders that are making progress towards D&I goals, recognise the need for support. 58% say they need external help to achieve their D&I goals, demonstrating a need in the market to support these leaders with key initiatives.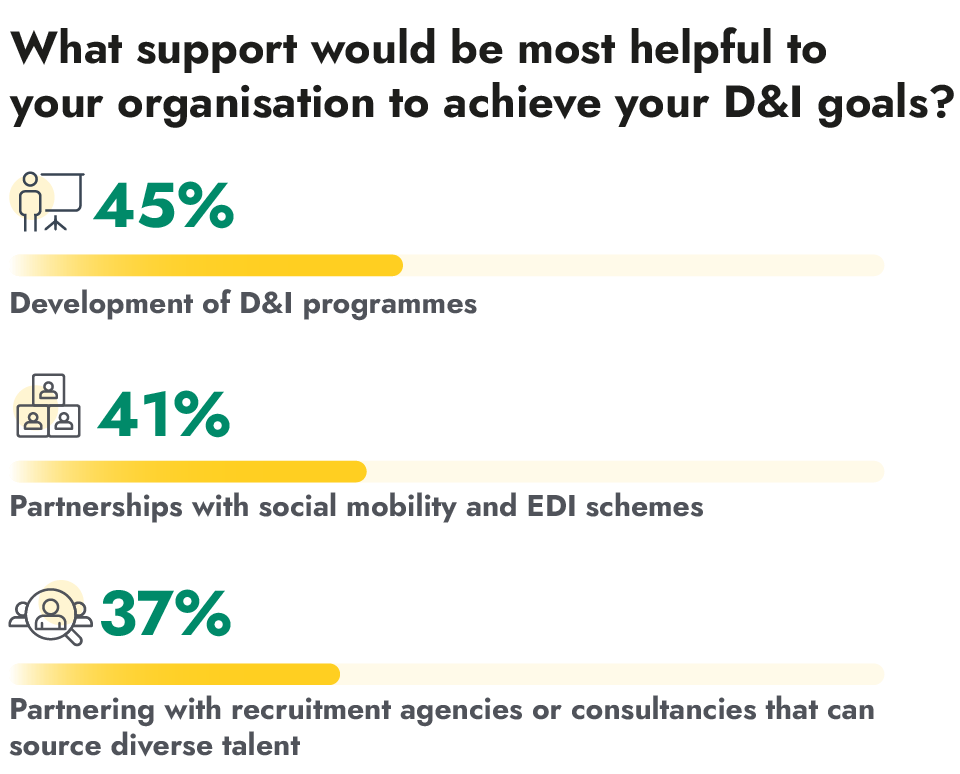 This report highlights the great work that HR leaders are doing to tackle the current hiring challenges, particularly around the demand for next-gen talent. It has also highlighted that they are actively looking for support, whether that's through technology or external help to find and train talent, onboard effectively, and deliver on their diversity and inclusion goals.
At ECI we have an established People & Culture Toolkit to help the management teams we back create fantastic employee propositions and cultures, and to hire and retain the best talent in the market.
If you would like to find out how ECI has helped its portfolio achieve that, or if you are a CEO operating in the People space that would like to chat to us about how we support growing businesses, please do reach out using the form here.
ECI surveyed 202 HR Managers with hiring responsibilities in UK businesses with more than 50 employees across aerospace and defence, automotive and transport, education, financial services, healthcare, HR, industrials, legal services, professional services, retail and consumer goods, technology and travel sectors. Respondents were surveyed in Summer 2022 regarding their views on current hiring challenges, the types of people they want to hire, tools and resources they use to overcome recruitment challenges and their D&I goals.